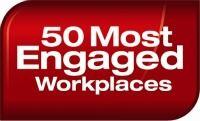 PBD Worldwide, a premiere order fulfillment solutions provider, announces their inclusion on the 50 Most Engaged Workplaces in the United States. This annual award recognizes top employers that display leadership and innovation in engaging their employees.
"We are privileged to be recognized along with other great service companies such as Aflac, Zappos and ADP" said Scott A. Dockter, President and CEO of PBD Worldwide.
The 50 Most Engaged Workplaces™ Awards panel of judges evaluate each applicant on how they measure up to other organizations based on the Eight Elements of Employee Engagement™. These elements include: Communication, Leadership, Culture, Rewards & Recognition, Professional & Personal Growth, Accountability & Performance, Vision & Values and Corporate Social Responsibility.