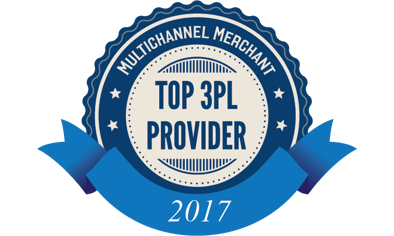 We are proud to announce PBD Worldwide was named a Multichannel Merchant Top 3PL for 2017, included in a listing of leading third-party logistics providers selected by the editors of Multichannel Merchant.
Given the growth of ecommerce and the increasing number of 3PLs in the marketplace, Multichannel Merchant has created this unique resource vetting 3PLs that are ecommerce qualified and experienced as a value-added service for its audience. The online resource is a searchable database/directory for merchants looking for a qualified 3PL provider.
PBD Worldwide offers a single source order fulfillment solution for a wide range of markets including e-commerce companies, retailers, publishers, associations/non-profits and faith-based organizations. Fully integrated and scalable fulfillment and freight services help companies simplify operations and reduce costs while delivering a unified order experience. PBD provides the following services and benefits to their partners:
Same-day order fulfillment

Pick/Pack, Returns Management, Container Receipts & Inventory Management

Parcel/mail-parcel hybrid shipping solutions

Web order processing & available web services

Custom kit building & assembly

Carton Labeling, Advanced Shipping Notice (ASN), Unit Stickering & Adherence to Routing Guides

Gift card processing & gift wrapping services

Branded packaging materials, personalized package inserts

In-house Retail Compliance Team

Fulfillment to Retail Distribution Centers or Direct-to-Store
"We are proud to be recognized as one of the top 3PL partners for multichannel merchants for the second consecutive year," said Greg Dockter, Senior Vice President of PBD Worldwide. "When companies partner with PBD, they are entrusting us with their most valuable asset – their customers. We do not take this responsibility lightly. We leverage our 40 years of expertise in the logistics field and five locations worldwide to create efficient and cost effective processes that enable our partners to grow while keeping their promises to customers of delivering the right product, on-time."
About Multichannel Merchant
Multichannel Merchant reaches key decision makers responsible for ecommerce, management, marketing and operations at companies that sell merchandise through multiple channels — including ecommerce, mobile, social, and catalog. Multichannel Merchant delivers original research, as well as in-depth analysis of trends and best practices, news, tactical/how-to, executive summaries, technology and supplier comparisons, tip sheets and resource information to help companies sell & deliver products wherever and whenever the customer wants them – at home, work, store or other locations.