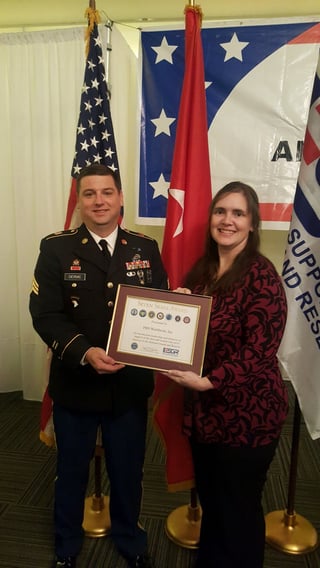 The Georgia Employer Support for the Guard and Reserve (ESGR) recognized employers who have provided exceptional support for the men and women serving in the National Guard and Reserve at an awards ceremony on Saturday, August 12th. PBD Worldwide was honored with the ESGR Seven Seals Award for their outstanding work in advancing veteran employment.

"It is an honor to be recognized by ESGR for our support of our military and veterans," said Scott Dockter, CEO/President of PBD Worldwide. "We recognize the value veterans bring to our organization and all businesses across America. PBD is committed to providing opportunities to those dedicated men and women who have served our country and continue to serve in our state's National Guard and Military Reserve."
The Seven Seals Award is symbolic of the seven services: Army National Guard, Army Reserve, Navy Reserve, Marine Corps Reserve, Air National Guard, Air Force Reserve, and Coast Guard Reserve. The award may be presented at either the state or national levels to honor significant individual or organizational achievement, initiative, or support that promotes and supports the ESGR mission.
About ESGR
ESGR, a Department of Defense program, was established in 1972 to promote cooperation and understanding between Reserve Component Service members and their civilian employers and to assist in the resolution of conflicts arising from an employee's military commitment. ESGR is supported by a network of more than 4,000 volunteers in 54 committees located across all 50 states, the District of Columbia, Guam-CNMI (Commonwealth of the Northern Mariana Islands), Puerto Rico, and the U.S. Virgin Islands. Volunteers, hailing from small business and industry, government, education, and prior military service bring a vast wealth of experience to assist in serving employers, Service members, and their families. Together with Headquarters ESGR staff and a small cadre of support staff for each State Committee, volunteers work to promote and enhance employer support for military service in the Guard and Reserve. To learn more, visit http://www.esgr.mil.