Digital printing has revolutionized inventory management; however in today's marketplace, many organizations overlook the immense value this service has to offer.

The traditional print for inventory model utilized offset printing services for high volume runs. With the ability to produce high quality prints at a lower cost per unit, it's no wonder why offset printing has become the preferred method used by many organizations. Although offset printing makes financial sense for fast moving, high volume materials, many times the cost savings are minimal because of shipping fees and storage fees organizations incur. What's more, the shift in consumer behavior and desire for more digital content has left many organizations with the costs of disposing of products that are not selling or obsolete.
Even with the increase demand for digital content, there is still a strong desire and need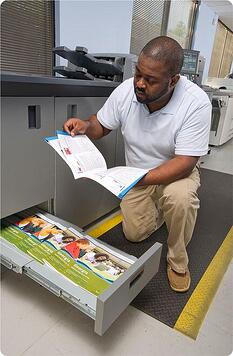 for printed products. With a small shift in how you manage the production of your products, you can continue to deliver a quality product at an affordable price point, all while maintaining a lower inventory holding cost.
Industry experts say that digital printing is comparable to traditional offset print production now more than ever. This is a major breakthrough for organizations with these previous concerns. Organizations are now able to take advantage of everything digital printing techniques have to offer.
Let's review a few key advantages digital printing offers to inventory management:
Cost Reductions: The advantage short run print (printing smaller quantities more frequently) and Print-On-Demand also known as POD (not printed until an order has been received) are becoming more popular because they reduce the storage costs and disposal fees of holding old or obsolete stock. Although the unit costs for digital vs. offset may be slightly higher, the costs are usually minimal, especially when you factor in overall savings of print production, savings in storage and disposal fees.
Flexibility to update & introduce new products: Digital printing increases your flexibility to update your content and make revisions without the concern of over ordering. Not only are revisions easier than ever but digital printing also allows you to create pieces that are highly customized to your customers! And this isn't limited to mailings anymore! Many times providers can print direct to order through print-on-demand processes. Do a little research of your sales and consult with your print provider to see if a hybrid print solution could benefit you. One hybrid solution commonly utilized is printing offset shell stock with digital overprint for letters, postcards and other similar pieces with frequent overprint needs.
Quicker Production Time: Digital printing provides a much quicker turn time then traditional offset with industry standards ranging from 1 – 3 days where offset can range closer to 5-10 business days (or longer)! This helps get your product in your customer hands sooner.
Even better, printing in short run print and print on demand models are environmentally friendly practices which are highly adopted business practices among organizations and consumers. Digital printing provides a great alternative to offset and is helping many organizations better manage their inventory levels, concepts, costs and time.