As a business grows and gains momentum, so does the demand for additional warehouse space, more employees and sophisticated order processing and fulfillment. At a time when a business starts to take off, many organizations look to partner with a third party logistics (3PL) company to outsource their fulfillment. Just as you are an expert in developing and selling your products, third party logistics companies specialize in inventory management, packaging and shipping. Partnering with a 3PL to handle your fulfillment services has many benefits and can provide peace of mind that your company can deliver the right product and services to your customers in a professional manner. Let's take a look at some of the benefits of outsourcing your order fulfillment.
Focus on growing your business. One of the biggest benefits of outsourcing your order fulfillment is that you are free to focus on core business activities to expand your business such as strategic planning, sales and marketing, product selection and customer relations.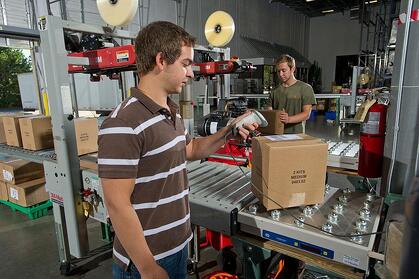 Lower shipping costs. Many fulfillment providers can negotiate better rates with the carriers because of greater shipping volumes and are able to pass on cost savings to your company. Your fulfillment partner is an expert in product distribution and should provide you recommendations for the lowest cost shipping options.
Eliminate shipping errors. Automated processes, sophisticated inventory control systems, streamlined pick and pack methods, optimized receiving and return procedures and state-of-the-art technology help ensure efficient and accurate order processing.
Scale your order fulfillment to match your growth. As your business continues to grow, you don't have to worry about finding additional warehouse space, hiring and training new employees and the challenges of managing additional inventory as your order volumes increase. Gain confidence in your ability to grow and expand at the same or more rapid pace without the fear of impacting your customer experience as your fulfillment partner should have established and readily available space to support your requirements.
Take advantage of the latest technology. Outsourcing your fulfillment allows you to benefit from the latest and greatest technology. Technology is constantly changing and for most companies, a large portion of their annual budget is devoted to maintaining and upgrading their technology and warehouse equipment. By partnering with a 3PL, you can pass that responsibility on to your provider, which is more cost effective for them as they are able to spread the costs across their clientele.