PBD Worldwide is proud to announce their recognition as one of Atlanta's Healthiest Employers by the Atlanta Business Chronicle for the eighth year!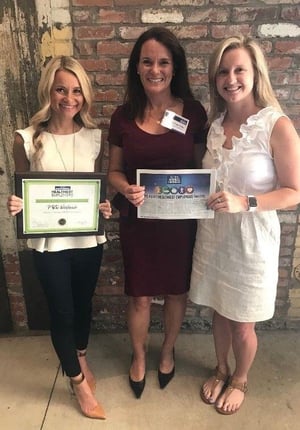 Atlanta's Healthiest Employers recognizes companies that take the lead when it comes to workplace health and fitness. This year, Atlanta's Healthiest Employers partnered with Springbuk to determine Atlanta's Healthiest Employers. Springbuk uses an online assessment of more than 60 scored questions to measure wellness programming in six categories: leadership commitment, foundational components, strategic planning, communication and marketing, programming and interventions, and reporting and analytics. The questions contain more than 600 data points that are analyzed and become the company's Healthiest Employer Index. This year, PBD was awarded the number 10 spot in the medium-sized category.


PBD earned this award by creating an environment that is continually focused on employee wellness. For over fifteen years, PBD has hosted walking and wellness challenges, implemented a wellness reimbursement program and banned smoking from all PBD properties. PBD's partnership with Community Health Partners (CHP) provides employees with professional health counseling and annual health screenings. As part of PBD's expanding wellness program, employees also have the opportunity to participate in monthly wellness seminars and on-site massages. Interested in joining the PBD team? Visit our Careers Page for more information about PBD Worldwide's culture and benefits!

For more information about the Atlanta's Healthiest Employers list, please visit www.bizhournals.com.