We are proud to announce PBD Worldwide was named a Multichannel Merchant Top 3PL for 2019, included in a listing of leading third-party logistics providers selected by the editors of Multichannel Merchant.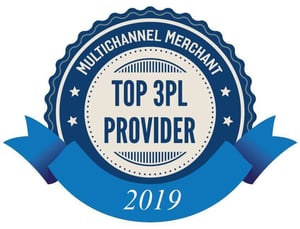 Given the explosion of e-commerce and the increasing number of 3PLs in the marketplace, Multichannel Merchant created this unique resource to vet 3PL providers that are e-commerce-qualified and experienced as a value-added service for its audience. The online resource is a searchable directory for merchants looking for a qualified 3PL.
Since 1976, PBD Worldwide has become a leader in fulfillment and distribution services for e-commerce companies, retailers, corporations, publishers, associations, non-profits and faith-based organizations. PBD's nationwide fulfillment network now includes six facilities strategically located across the United States in an effort to reduce transportation spend for their clients while cutting down delivery times to customers. Fully integrated and scalable fulfillment and freight services help companies simplify operations and reduce costs while delivering a unified order experience.
"It is an honor for PBD to be recognized as one of the top 3PL providers for multichannel merchants for the fourth consecutive year,"
said Greg Dockter, Senior Vice President of PBD Worldwide. By choosing PBD, companies are entrusting us with their most valuable asset, their customers. We do not take this responsibility lightly. In addition, our variety of business divisions add value and cost savings for our partners through a single source."
PBD's service offerings spread far beyond the warehouse with Freight Scouts, Rapid Ink, and SWAG.
Freight Scouts is the non-asset transportation brokerage division of PBD Worldwide focused on delivering freight solutions for Truckload, Less-than-Truckload, Parcel and Import/Export shipments. These services complement PBD's warehousing and fulfillment services, but also standalone to provide shippers with unmatched value and cost-savings for their overall transportation spend.
As a single source marketing communications solution, Rapid Ink helps brands get their message out and continue to grow their business. Rapid Ink's solutions complement PBD's current print and mail services with an enhanced portfolio of solutions including creative services, offset print, signage, large format printing, conference/event solutions and promotional services.
PBD's promotional products division, SWAG Promo, is a perfect complement to source additional items for internet retailers to solidify their branding.
About Multichannel Merchant
Multichannel Merchant reaches key decision makers responsible for e-commerce, management, marketing and operations at companies that sell merchandise through multiple channels — including e-commerce, mobile, social, and catalog. Multichannel Merchant delivers original research, as well as in-depth analysis of trends and best practices, news, tactical/how-to, executive summaries, technology and supplier comparisons, tip sheets and resource information to help companies sell & deliver products wherever and whenever the customer wants them – at home, work, store or other locations.