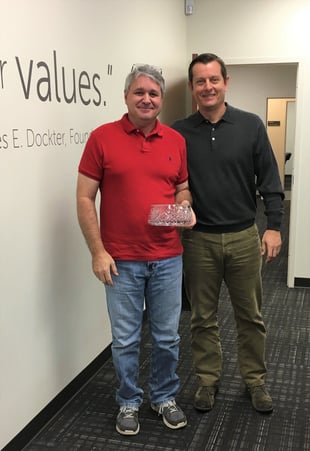 PBD Worldwide is pleased to announce the winner of their 2016 Lombardi Award, Frank Garrahan. The Lombardi Award is the organization's most coveted award and is given annually to the PBD team member who made the most outstanding contribution to PBD's success and best displays the essence of Vince Lombardi's famous coaching and motivational abilities.
Lombardi has been a long-time influence behind several principles and philosophies embraced by PBD Worldwide. Named 'Coach of the Century' by ESPN, Vince Lombardi is remembered for his dedication, his infectious enthusiasm and his unforgettable quotes. Vince helped the men he coached succeed to the furthest of their abilities. He brought them pride and victory, and his legacy of perseverance, hard work and dedication has made him one of the most admired and well respected coaches in history.

Since joining the team in 2001, Frank has held several positions at PBD including Accounting Services Manager, Premium Services Manager and Operations Manager. In his current role as Business Process Manager, Frank oversees the review and improvements made to existing processes and procedures as well as the implementation of new processes.
During his 15 year tenure, Frank headed up numerous projects including PBD's SNAP (Seeking New and Accurate Processes/Procedures) initiative in 2006 which required the review and flow charting of all of PBD's processes and resulted in PBD EasyAccess as well as the redesign of order entry screens based on data gained through extensive call monitoring, group meetings and time studies. Frank was also heavily involved in the successful upgrade of PBD's ERP system.In 2016, Frank led the implementation of PBD's new weight checking system which enhanced shipping accuracy technology by adding weight checking functionality to all shipping stations. This project included adding order and shipping characteristics for all PBD clients to increase accuracy based on the calculated order weight. At the time the order is shipped, if the order weight is not within the range of the total weight of the items and packaging, the order is flagged and set aside for additional checking. Most recently, Frank led PBD's fastest client implementation to date completing the on-boarding process within 30 days.