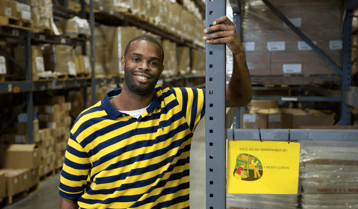 A trusted fulfillment partner can help your company reach the next level of success and customer satisfaction. The key to your successful relationship with a 3PL partner is to carefully evaluate potential fulfillment companies to determine which one best meets the needs of your organization. When evaluating fulfillment companies, you should pay special attention to the each company's stability, industry experience, scalability, employee interactions, and company culture. Below is a summary of what to look for in a 3PL partner.

How a Site Visit can Help You Select a Fulfillment Partner
If possible, you should visit prospective fulfillment partners to evaluate their potential as a partner. A site visit allows you to witness the nerve center of a fulfillment company and allows you to see the following elements first hand:
The orderliness and cleanliness of warehousing facilities

Efficiency of supply chain activities

Organization of inventory

The level of care used in the packing and handling process

Capacity to handle large projects

The demeanor of employees
As you observe each of these characteristics, you will begin to develop a feel for whether a potential fulfillment company may or may not be the right partner for your organization.
Pay Close Attention to Industry Experience and Scalability
In general, fulfillment companies with decades of industry experience will be more prepared to handle your eCommerce order fulfillment needs than a company that is brand new to the industry. In addition to seeking a company with long-term industry experience, you should choose a fulfillment company that has the resources to meet your specific needs. For instance, if you tend to have strong seasonal fluctuations with several multi-million dollar orders each year, you should make sure that you choose a fulfillment company with the proper scalability. Your order fulfillment company should possess adequate warehouse space and the staff to handle large spikes in orders with time-sensitive demands.
The Importance of the Likeability of the Employees and Ownership
When selecting a 3PL partner, you should pay special attention to the demeanor of the employees. After all, you will be working closely with them and it is critical that you feel comfortable with the staff and have confidence in their ability to meet your needs. Below are a few questions that you should ask yourself as you interact with staff at potential fulfillment companies?
Do the employees look happy in their roles?

Do you enjoy interacting with your potential points of contact at the company?

What is the average longevity of employee tenure with the company?

Are the employees responsive to you and each other?

Do you feel confident in the ability of employees to meet your needs?

Are employees exhibiting care in their actions or displaying apathy?
The Power of References in the Selection of a Fulfillment Partner
References are one of the most important indicators of a fulfillment company's potential. You should request multiple references and make a point to contact them immediately. Ideally, you should contact customers who own similarly sized businesses and who are in your same/similar general industry. Be sure to ask the following questions as you speak with each contact:
How long have you worked with this fulfillment company?

Have you been pleased with the company's level of responsiveness to your needs?

Have you encountered many delays with your order fulfillment?

What are the company's biggest strengths and weaknesses?
If you would like to learn how PBD Worldwide can assist you with your eCommerce order fulfillment needs, please contact us. We look forward to hearing from you!