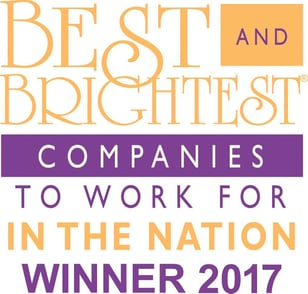 PBD Worldwide is proud to announce their recognition as one of the 2017 National Best and Brightest Companies to Work For®. This is PBD Worldwide's fifth consecutive year appearing on the list.
The 2017 winning companies were assessed by an independent research firm which reviewed a number of key measures relative to other nationally recognized winners.

The Best and Brightest Companies to Work For® competition identifies and honors organizations that display a commitment to excellence in their human resource practices and employee enrichment. Organizations are assessed based on categories such as communication, work-life balance, employee education, diversity, recognition, retention and more.
With over 20 years of experience conducting Best and Brightest Company competitions, the National Association for Business Resources (NABR) have identified numerous best Human Resource practices and provided benchmarking for companies that continue to be leaders in employment standards.
The companies that have been selected to be recognized nationally as a Best and Brightest Company to Work For® will be featured in an online edition of Corp! Magazine. The winning companies will also receive additional recognition as a national winner at a Best and Brightest Companies to Work For® awards symposium and gala at a location of their choosing in several U.S. cities. The annual symposium and award galas are presented in Detroit, Chicago, Atlanta, Houston, Milwaukee, San Francisco, Grand Rapids, Dallas, San Diego and Boston. To see the full list of winning companies, click here.