With football season approaching, we are all gearing up for an exciting, busy and sometimes hectic season of entertainment. Just like we would prefer not to worry about RG3's knee, wouldn't it be nice not to stress about the upcoming change in your company's fulfillment operation?
Whether you're looking to outsource for the first time or switching fulfillment providers, the concerns about the "pains" of transition can leave you feeling uneasy. Let's review our playbook and how to avoid a fumble in the game of transitions: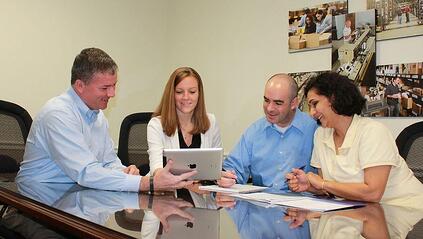 Play #1: Make sure your prospective partner has a dedicated team and process
You are great at your products and services. You aren't supposed to be great at coordinating transitions to a new fulfillment provider. It is important for your company to understand the process and know who will lead the project before you decide on your new partner. Make sure your prospective partner has a dedicated implementation team in place with project management experience. Your new provider should be willing to customize a transition strategy to help guide you through the process and make the transition as smooth and well-organized as possible. Ask your potential partner to provide you with a detailed timeline to ensure no details are missed.
Play #2: Eliminate customer impact and downtime
Your top priority during the transition is to keep your business functioning without interruption. As with any major project, the risk of negative customer impact is in the forefront of your mind. As you interview with your fulfillment provider candidates, ensure that they have a tried and true plan to reduce effects on your day-to-day business interactions. Choose a partner whose implementation strategy minimizes downtime and identifies areas for long-term growth.
Play #3: Assess the long-term value – find a partner, not a vendor
While in the midst of this important transition, it's easy to lose sight of the future. Be sure that you evaluate your potential provider's existing relationships. What is the average tenure of their clients? What other services can they offer to help your business become more efficient? Assess their technology advancements and ensure that they are innovative in their processes and service offerings. Remember, many times you'll find that providers offer the same services, but these services are not always created equal! Find a partner who understands the demands of the marketplace and offers improvements and technology developments to help your company move forward for the long term.
Change is never easy on any company. It is important that your new fulfillment partner have your company's best interest in mind. Planning out these plays helps create the enduring partnership needed to tackle your goals and take your company to the Superbowl!