The distribution center of today is a coordinated, fast-paced movement of people, product and equipment. Regardless of the facility size and number of employees, it is important that an on-going focus on safety and effective teamwork results in a safe, productive and accident free workplace. There are many ways to get all teammates involved to promote a safe warehouse environment. Even though the warehouse activities change constantly, workplace safety must always be on the forefront of our daily objectives.
#1 Maintain a Clean Work Environment
Clients want to know that their customers will receive their orders in a timely manner. One way to facilitate this is to maintain a warehouse that is showroom ready. All areas of the warehouse, including aisle ways and docks, must be free of obstacles (empty boxes, pallets, shrink-wrap, trash, unused materials, liquids or debris), be well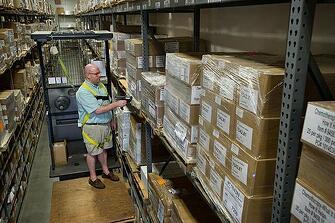 organized, properly labeled and be prepared for whatever the daily warehouse activities entail. It is important to remain vigilant that everything in the warehouse has a place and that ultimately those items are always in that place. Look high, look low, look close, and look far. Having different perspectives will open your eyes to what is going on.
#2 Ensure Proper Training for Teammates
Warehouse workers are a vital piece of the fulfillment process. They must follow proper lifting techniques (think lifting twice) when picking product, moving boxes and loading and unloading trailers. Teammates that use material handling equipment must be trained and certified on each and every piece of equipment they use. Daily usage of this equipment and annual re-certification ensures that they remain current on how those pieces of equipment operate. Everyone must remain alert and be aware of their surroundings at ALL TIMES – this includes observing all safety signs, pedestrian walkways and being on the lookout for moving material and handling equipment. Properly stacked merchandise on stable pallets reduces the chance of falling objects. Teammates should use gloves and mechanized methods when possible to avoid injury. Think of pushing, not pulling, heavy loads.
#3 Properly Maintained Equipment for the Job
Warehouses today are aisles of product meticulously stored to maximize space for our clients' needs as well as dock spaces of inbound and outbound freight. The right mix of properly maintained equipment is critical. Teammates should complete a daily inspection of the material handling equipment they use to guarantee that it is capable of performing the tasks it is designed to complete. Regular preventative maintenance will ensure that all pieces of equipment are in operational order when needed. Besides forklifts, there are many other types of equipment that are selected for the job and must be properly identified and well maintained (ladders, hand trucks, carts, dollies, conveyors, box cutters, tape machines). These must not only be trained for, but inspected daily for damage/excessive wear and replaced as needed. Dock plates and levelers and dock doors must be in excellent working order to facilitate the loading and unloading of inbound and outbound shipments.
#4 Safety Attitude
It is ultimately up to you. A safe warehouse environment uses common sense. Every teammate must take safety precautions seriously and remain focused on the task at hand. Pay attention to the details, what you do, where you are going and simply follow the items outlined above. The difference between being a safe workplace and not is a momentary lapse in judgment. SAFETY FIRST!!!