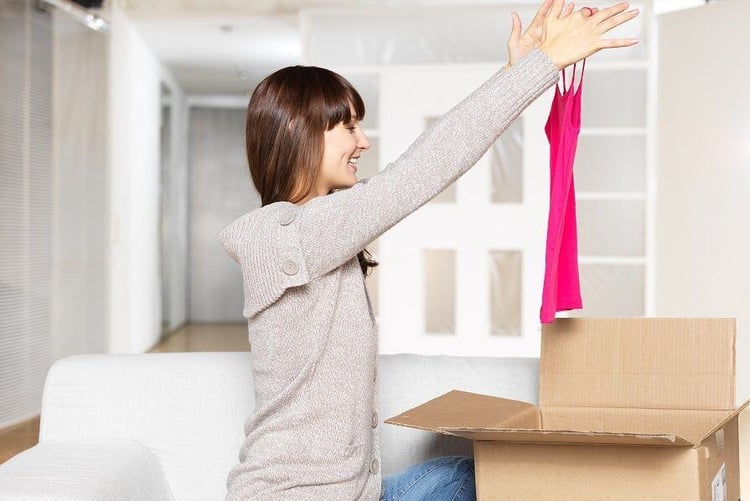 The retail industry has arguably seen one of the biggest digital transformations over the years. With an increasing amount of consumers shopping online rather than brick-and-mortar stores, retailers continue to put an emphasis on scaling up digital operations and creating a great customer experience from browsing to purchasing to the package arrival at consumer's doorstep.
Although the intent is there to create a better experience, the e-commerce industry is still hampered by many problems that make profitability viable, but a little difficult. High return rates have long haunted e-commerce companies. According to a study by Invesp, 30% of all products ordered online are returned as compared to 8.89% in brick-and-mortar stores. What's more, the return rate for online apparel purchases is closer to 40%. To make matters harder for online retailers, shoppers now expect hassle-free return policies, including free return shipping, and 67% of online consumers check the returns information page before making a purchase.
With returns being a sore spot for most e-commerce companies, what can businesses do to help prevent them from happening? Below are some of the most common reasons for product returns and how you combat the problem starting now.
Problem #1: Sizing
One of the major hesitations when it comes to shopping online for apparel is the inability to try the items on. Offering free return shipping and a hassle-free return policy helps overcome this hurdle, but may be hurting your overall profitability. Not all apparel fits alike and when purchasing an item from an online retailer for the first time, the anxiety of not being able to try on the item is typically at an all-time high. If you have a flexible return policy, shoppers are more likely to make a purchase, but may do things such as order multiple sizes and return items that do not fit, once again hurting your margins.
Solution: Include more reviews, and provide detailed information on size & fit.
Having reviews for items, especially apparel, is incredibly important. Reviews help eliminate size returns as customers are better able to explain whether or not items run true to size and fit the way they anticipated to base on images or details in the item description.
For apparel items, consider adding a sizing scale review area (in addition to written reviews) that allow previous purchasers to indicate whether the item runs: Too small, True to Size or Too Large using a sliding scale. This will help potential buyers purchase items they feel confident in and reduce the number of returns due to fit and sizing problems.
The sizing scale review area should not replace written reviews. Make sure to offer both review options, so previous buyers can leave information on purchase and product details that will help the potential buyer make the right purchasing decision. Having customer reviews helps manage sizing expectations based on the experience of others and let's your happy customers rave about the new shirt they bought.
Problem #2: Quality control issues. Customer receives the wrong or damaged products.
Scenario #1: You placed an order online for a new backpack for your upcoming camping trip this weekend. You arrive home after work to a package on your doorstep and rush inside to open it. The excitement is at an all-time high, but when you open the box you find…a can opener. You suddenly feel your mood change as you realize the company sent you the wrong item and now you will not have your backpack in time.
Scenario #2: You've finally saved enough to purchase your new gaming console and cannot wait for it to arrive tonight, so you can play the newest racing game. You are disappointed when you arrive home to a damaged package. You open the package with hopes that the gaming console inside is still in good shape, however your nightmare is confirmed when you find that it was smashed and broken into pieces.
Mis-picks and poor packaging are one of the main culprits for returned purchases. When these incidents happen often, it is important to thoroughly examine the issue and take steps to resolve the problem.
Solution: Partner with an expert in fulfillment services & product distribution.
One solution is outsource your fulfillment services to an ecommerce fulfillment provider that is an expert in the fields of warehousing, product distribution and shipping. The right fulfillment center will have processes and technology in place to reduce, and hopefully eliminate, returns due to mis-picked items. In addition, the 3PL company you choose should have a strong relationship with all major shipping carriers. Regular communication along with a good working relationship will prove beneficial in the unfortunate event that a package arrives to your customer damaged.
Problem #3: Expectations.
Perhaps the product was not what the consumer thought it would be. Or the item may do what it is supposed to do, but did not meet the customers expectation they set when they saw the product, read the description and made the purchase.
Solution: Provide customers with a personalized experience and reliable reviews to make an informed purchase.
Provide customers with a personalized order experience by guiding them every step of the way, from browsing to purchasing. Offering online chat or an easy way to get in touch to discuss product questions will help consumers set realistic expectations. Make it easy for the customer to get answers to any questions they may have to reduce the potential for returns. Another option is to add a FAQ page to your website to help answer basic questions that come up about products or the ordering process.
The more information customers have about products and ordering process, the more confident they will feel about their purchases - thereby reducing the return rate because they know exactly what they are about to receive.
Problem #4: Product images. The item appeared different in the photo than it did in person.
Ever order something online only to receive it and realize it looks nothing like the image you saw online? Having poor quality images or deceiving images (whether or not you intended it to be) can lead to high rate of returns and lower trust levels with consumers.
Solution: Invest time and resources in taking high quality photos.
Use high quality images and provide multiple images that display different angles of the items. High quality images allow you to zoom in and get a better idea of the details, fabric used, fit, product features etc. Remember, your consumer cannot see, touch or try on or out the item, so product image is extremely important.
Consumers are often hesitant to purchase items that do not have clear and easy photos to understand, and thus those items are prone to higher return rates. High quality images will help mitigate that risk, while still providing customers with ample information to make an informed decision.
Understanding why your customers return items and being proactive to try to limit/eliminate these reasons is the key to reducing returns, maximizing profits and gaining loyal customers. To learn more about how we can help your company reduce returns through our full suite of ecommerce fulfillment services and provide an exceptional delivery experience, contact us today. We look forward to hearing from you!