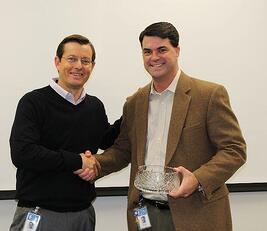 PBD Worldwide is proud to announce the winner of their 2012 Lombardi Award, Brion Zaeh. The Lombardi Award is the senior management team's most coveted award and is given annually to the senior team member who made the most outstanding contribution to PBD's success and best displays the essence of Vince Lombardi's famous coaching and motivational abilities.
Lombardi has been a long-time influence behind several principles and philosophies embraced by PBD Worldwide. Named 'Coach of the Century' by ESPN, Vince Lombardi is remembered for his dedication, his infectious enthusiasm and his unforgettable quotes. Vince helped the men he coached succeed to the furthest of their abilities. He brought them pride and victory, and his legacy of perseverance, hard work and dedication has made him one of the most admired and well respected coaches in history.
As Senior Vice President of Client Relations, Brion manages the client relations team, oversees operations and serves as the primary executive contact for most of PBD's clients. In addition, Brion is responsible for PBD's client retention and business development efforts for existing clients as well as strategic planning. Brion joined the PBD team in 1994 and has served many positions within the company including Director of Client Relations and Assistant Vice President of Operations.