Whether you're an in-house operation considering outsourcing your fulfillment for the first time or an organization looking to switch fulfillment providers, moving your operation is a big decision. The challenges facing organizations today are similar, but choosing a partner familiar with your unique pain points is important to ensuring your organizational needs are met. Here are four important questions to ask when selecting a Third Party Logistic Provider (3PL):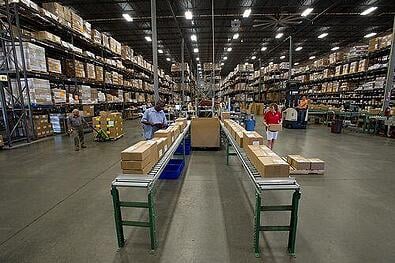 Do you have experience with like products and industries? It is important to find a provider that understands the challenges unique to your industry, products, customers, and organizational goals. If your prospective provider has limited experience, you are more likely to encounter obstacles and learning curves along the way. In addition to asking about experience with similar organizations, you may also want to ask questions like "What's the average client tenure?" and "Why have clients left your organization in the past?" This will likely tell you a story about their client's experience. If you don't want to just take their word for it, ask your potential provider for a minimum of two current and former client references with similar order volumes and business objectives. This will be an opportunity for you to speak to their clients first hand and get a different perspective on the partnership and understand reasons why past clients may have left. Don't hold back; make sure to ask the tough questions that will help you make the right decision such as "Have they made any mistakes and if so, how did they handle it?" and "How did the implementation process go?".
What differentiates you from your competitors? This isn't a new question, but it's important to ask in order for you to learn what distinct benefits your organization will experience by partnering with a potential 3PL. Some fulfillment providers may offer additional services and solutions beyond the typical fulfillment and distribution services. Taking advantage of these additional offerings such as ecommerce store fronts, contact center support, accounting services, highly customized reporting, and print and mail services can save you time and money by eliminating the hassles and costs of working with multiple providers. In addition to service offerings, look for attributes that make a provider unique such as company culture, employee development, community involvement and a solid reputation within the industry.
What is your implementation methodology? Concerns about the "pains" of transition can be overwhelming and unnerving. Moving your inventory can create "down time" and affect your sales and customer experience, so it is important to ask a potential provider questions about their implementation practices. Ask potential providers to describe their implementation process thoroughly and to provide a timeline to ensure no details are missed. Select a provider that offers a detailed transition plan and eliminates concerns related to transition time and expenses. The implementation stage sets the tone for the relationship between you and your fulfillment partner, so make sure they have the processes for all functional areas in place to create a successful foundation.
What services and technology do you have to help drive our organizational goals? Many times you'll find that providers offer the same services but these services are not always created equal. Ask questions and learn more about how your potential provider operates and the investments they've made (and plan to make) in the technology that drives their operation. Asking the potential provider how long they have been in business is a good way to start the conservation. If the provider has been in the industry for a while, make sure to ask what technology investments they've made over the years to ensure their processes are up-to-date and most efficient. If the potential provider is rather new, less than 5 years, they are likely to have fairly up-to-date technology, but it is important to discuss their plan for technology investments in the future. It's also good to learn about additional services they offer such as print-on-demand, bundling options and customized reporting, which may provide a solution or more cost effective way to manage an aspect of business and allow you and your employees to focus on your organizational goals and mission.
The 3PL services offered are important to your organization but finding a provider with knowledge of your industry and customers is important to the partnership growth and success. In addition, testing the provider's services firsthand can confirm the service levels you and your customers will experience and validate the services are at the quality and level needed to have a successful partnership.