The importance of consistently building brand awareness cannot be overstated. There are effective brand-building strategies that can be undertaken through each stage of the order preparation process to solidify your customer's loyalty to your brand. Here are our top ideas for building brand awareness through the supply chain experience.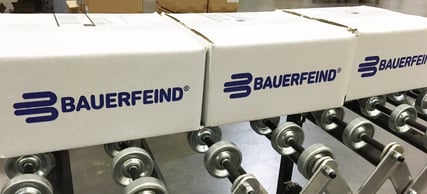 Use Customized Cartons and Boxes. The box or carton is the first thing that a customer sees when his or her order arrives. By using custom boxes that display your company's logo, you will continue to build upon your customer's familiarity with your brand. There are cost effective alternatives to custom printed boxes such as placing stickers with your logo on the outside of the box.
Brand the Other Packaging Materials. Choosing a non-standard filler material will set you apart from the competition. Wrap your products in branded tissue paper to add an extra level of excitement for customers while they open their package. Another nice touch is to use a colored tape that complements your brand vs. the traditional clear packaging tape.
Include Marketing Materials with the Shipment. You can expand your customer's awareness of your product line by including a product catalogue or company brochure. Take promotional inserts one step further, by personalizing the materials based on the item(s) they ordered. For example, if your customer purchased a new speaker, you may add a small flyer that highlights speaker accessories such as a portal charger or waterproof case. Promotional inserts can also be a cost effective strategy to market slower moving products.
Branded Packing Lists and Order Summaries. Customers often scan packing lists to confirm that all ordered items have arrived. Including your logo and information on packing lists and order paperwork will help you continue to build brand awareness. This goes for your order and shipping email confirmations as well. Make sure to include your branding on every communication the customer receives.
Say Thank You (Personally). Make your company stand out by including a personalized thank you card or letter with their order. A short message can go a long way in making the customer feel appreciated and gaining their loyalty. Check if your fulfillment partner offers variable print options to streamline the process.
Include Coupons and Incentives for Future Purchases. Customers enjoy feeling appreciated for their business. The inclusion of a coupon or invitation to a VIP sale serves the dual purpose of making the customer feel valued and helping build repeat business.
Please contact us if you would like to learn more about building brand awareness through the supply chain experience. We look forward to helping you optimize your brand's presence among customers!