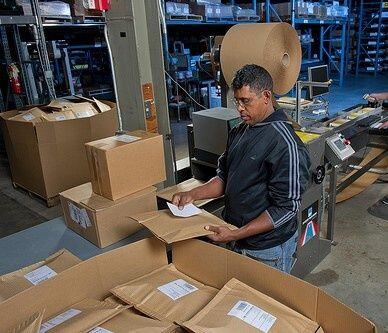 Fulfillment services can make or break your business. However great your product, however much people may want it, and however successful your marketing department may be, you still need to make sure that product reaches your consumer, in pristine condition, on time. Ideally, you want a responsible fulfillment partner who can hit the ground running - and can adapt as your business grows. Today, we are going to look at Interviewing Potential Fulfillment Partners - 5 Questions You Should Ask.
1. What additional services do they offer? Traditionally, distribution partners have provided the infrastructure to ship and track goods. In order to truly merit the title of "fulfillment" partner, your prospective partner must perform these core services well. Partnering with a 3PL that goes above and beyond by offering additional services such as kitting and assembly, custom packaging and marketing inserts and other small touches can make all the difference to your customer experience. The top fulfillment companies offer value-add solutions as well including Contact Center Services, Accounting Services, Print and Mail and Comprehensive Reporting.
2. How do they cope with volume fluctuations? Do they have access to additional staff and space as needed? An essential element of fulfillment includes an infrastructure capable of expanding when necessary to fulfill the needs of the moment. If that infrastructure is not present, you could wind up with a surge in sales followed by expensive storage costs and angry customers when you are suddenly unable to fulfill orders in a timely and accurate manner. Make sure your potential fulfillment provider has experience and a solid plan to expand or downsize based on seasonal fluctuations or growth of the business without impact to the customer experience. Scalability is essential, so asking these questions helps ensure that the distribution partner you choose will be able to support your operations as your business grows.
3. Do they have reliable, third-party relationships with shippers? Fulfillment companies should also bring this to the table: long-term, efficient shipping relationships at reduced costs. An effective partner will use their volume across all clients to negotiate freight discounts with the major carriers and pass those savings on to you.
4. How do they monitor order accuracy? A true fulfillment service provider should do more than get packages from here to there. They should be aware of what they should be sending, what they are actually sending, and of any potential inaccuracies along the way. Ask your potential partner what processes and technology they have in place to eliminate/reduce shipping errors. Ask them about current and past order fulfillment accuracy statistics. Also, don't be afraid to ask prospective partners for a list of clients that you can contact. References are one of the most important indicators of a fulfillment partner's potential.
5. Do they offer real-time, drill-down reports? You have an interest in the location and disposition of your goods. Your order fulfillment provider should offer a business intelligence tool that keeps you informed of your company's performance at all times. Reporting tools should include options to run a wide variety of reports including sales and inventory levels and key performance indicators. A comprehensive reporting tool will allow you to have a high-level overview of your business as well as the ability to "drill down" into more detail-oriented reporting.
Looking to outsource your fulfillment or switch to a new 3PL partner? Contact us today and see what PBD Worldwide can do for you and your organization.