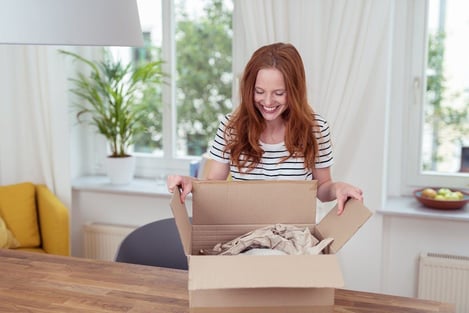 If you think today's consumer is becoming more and more demanding, you're right. From faster turn times, free shipping, free and fast returns, instant access to customer service/answers to questions, connection with your brand…you name it, your customers want it. With the continued rise of online shopping and new competition entering the market every day, escalating customer expectations are only going to continue to increase.
Partnering with a trusted fulfillment center can help your e-commerce company meet some of these customer demands and continue to grow your business. Here are some of the common rising expectations that e-commerce companies are facing today and how partnering with the right fulfillment center may help your business.
Leverage 3PL's Strong Relationship with Carriers – One of the top benefits of outsourcing your order fulfillment to a distribution center is freight discounts. Fulfillment centers are able to pool their order volume across all clients and receive a better discount with the major carriers than a single business would on their own. The right partner will pass down some of those freight savings to your business, allowing you to offer more and better shipping options to your customers. What's more, your distribution partner will take care of communication with carriers and contract negotiation, freeing up time for you and your team to focus on other business needs.
When vetting potential 3PL partners, be sure to ask about their partnerships with the major carriers. Choosing a fulfillment center that has a strong relationship with open and often communication will prove very beneficial, such as in the unfortunate situation that a customer's order is damaged or lost during the delivery process. The right logistics partner will work with the carrier to resolve the issue faster and look at ways to prevent future problems.
Visibility into Inventory & Order Shipment Status – Customers have endless ways and options for purchasing their favorite items today. Unless you serve a niche market or offer a highly specialized product, chances are competition is high. This makes it all the more important to avoid backorder situations if possible. Having a powerful reporting tool that gives you access to inventory levels as well as generates reorder notifications when inventory levels are low is vital. Your fulfillment center should be an expert in inventory management and offer a robust reporting tool that provides insight into inventory and sales. As the trusted order fulfillment partner for over 100 companies, PBD offers our clients access to our robust business intelligence tool, PBD SmartReports. This web-based reporting solution allows companies to easily analyze their sales and inventory information in a intutitive interface. To learn more, please click here.
Faster Turn Times – Fluctuations in order volume can cause a headache for an in-house fulfillment operation. By outsourcing your fulfillment to the right 3PL provider, you can gain peace of mind that seasonal spikes in orders will not affect your customer experience. Your fulfillment center should have processes and plans in place to effectively manage spikes or declines. This includes training their distribution associates across multiple accounts and pulling resources together when necessary. Remember, the more information you provide your fulfillment partner, the better. Sharing past sales history to understand volume fluctations or keeping your 3PL up-to-date on expected spikes such as a new product launch, will give them time to prepare in advance and ensure the best experience for your customers.
Reduce Errors – I think we can all agree that one of the greatest disappointments is opening a package to find the wrong item was shipped to you. Shipping the wrong product(s) to a customer may not only cause you to lose their future business, but potentially could result in you losing out on other future customers as well. With social media and other review sites such as Yelp, the power is in the hands of today's consumer and can either benefit or hurt your business depending on their order experience. Your logistics partner should be an expert in order fulfillment and have the proper processes and technology in place to prevent the mispicks (wrong item being sent) from happening. Not only will this save you money (you do not have to pay three times for shipping – original incorrect package →return package→correct package), but it will also avoid a negative experience.
Increase Connection to Brand through Brand Awareness and Image – Customers want their order to arrive on-time, with the right products and in good shape. Your fulfillment center will ensure your orders are packaged correctly. From box size to proper fill material to placement of the shipping label, every step of the packaging process has a reason behind it. Many 3PL partners will offer additional value-add services such as premium packaging options including branded boxes or gift-wrapping options, branded fill paper or branded package taping and options for marketing inserts. These visually appealing enhancements provide a great first impression and help customers connect with your brand. These type of upgrades to a typical brown shipping box are especially important to e-commerce companies selling premium or high-ticket items.
Choosing the right fulfillment center to partner with can help you keep up with demanding customer expectations and grow your business. If you are considering outsourcing your fulfillment or looking into switching 3PL providers, we'd love the opportunity to engage with you and see if PBD may be the right fit for your business.