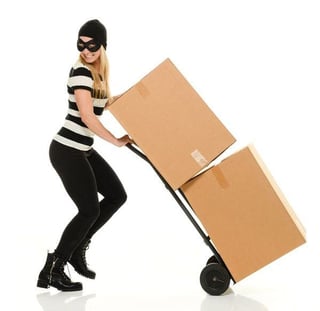 According to Adobe Digital Insights, holiday shopping on Monday reached a new daily record of $3.45 billion! After scoring all those Cyber Monday deals, your packages are set to come flooding into your mailbox and fill your doorstep. Whether you are supporting artisan work or just taking advantage of the comfort of great deals in your pajama pants, online shopping is the new Black Friday. Unfortunately, with all good things comes someone to ruin it. Theft is on the rise as criminals have discovered easy prey in the innocent brown packages adorning America's front stoop. How do you protect yourself from the Grinch Who Steals Packages? Today is National #PackageProtectionDay, and we is sharing our top tips to ward off parcel thievery this holiday season.
#1 - Require signature confirmation.
Technically this will only work if someone is going to be home during the delivery window, but requesting signature confirmation will take the pressure off you and the sender and place the burden of delivery on the carrier.
#2 - Use a security camera (or decoy) pointed directly at your front door.
Gone are the days of needing fully wired security systems installed by a two-man team. You can install your own security camera with a few clicks and have constant access via your smart phone. A non-functional camera could potentially act as a deterrent. How is a thief to know that the obvious camera with the blinking red light isn't actually recording his every move?
#3 - Have your packages delivered at work.
Be sure that your company is okay with this before changing the delivery address on your SO's new iPad. Perhaps only select a few of the more expensive gifts to send so as not to take advantage of your receptionists' time. Don't forget to include a nice gift for the person who is signing for all those packages!
#4 - Get to know your delivery driver.
Did you know that UPS drivers don't turn left? (click here to check out why). You might have known that interesting tidbit if you were friendly with the driver who covers your route. By taking a few moments to get to know them, they might be willing to put your packages in a more secure location and keep an eye out for strangers hanging around your house.
#5 - Request that the delivery service hold your packages for pickup.
UPS will hold your packages for pickup for up to 5 days at no additional charge. You lose a bit of the magic when you have to drive to the customer center and pick them up, but that is nothing compared to the peace of mind you will have knowing that Grandma's new 156 piece knitting needle kit is safe and sound.