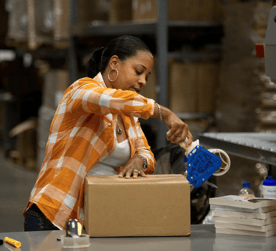 Your organization has worked tirelessly to build its brand and exceed customers' expectations in the products and services you provide. You've earned the confidence and trust of your customers. Don't jeopardize your reputation by using a fulfillment partner who isn't as devoted to your customers as you are.
Whether you are looking to increase your capacity by outsourcing your in-house fulfillment, have requirements/needs that remain unmet by your current provider or have an upcoming RFP, it is important to make an informed decision. Here are several important tips for choosing the right 3PL partner for your organization:
Scalability is essential. As your business grows, your fulfillment partner must support your operations efficiently and reliably with no surprises. The right 3PL partner will enable your growth while allowing your organization to focus on its mission.
Freight discounts increase your profits. Your 3PL partner must have strategic relationships with all major carriers to offer your organization a customized shipping program that passes the negotiated savings on to you. Your fulfillment partner should be an expert in product distribution and provide you recommendations for the lowest cost shipping options.
Additional capabilities can add value and support your business model. Your organization may benefit from additional value-added solutions that a comprehensive 3PL partner can offer. Additional services can include Contact Center, Accounting Services, Digital Distribution, Reporting, Print & Mailing Services and Promotional Products. Utilizing multiple services can save your organization time and cut costs by eliminating the hassles of working with multiple provides.
Culture is key. When considering a e-commerce distribution center, it is important to know who you are dealing with. Your provider should have a strong track record of community involvement and support. They must also strive to hire and empower high-performing employees and operate their business in a way that serves your business and contributes to your efficiency and cost reduction objectives. Remember, your fulfillment partner is an extension of your brand. It is important to find a partner who is a value match for your company.
Financial stability offers peace of mind. Choose a 3PL provider with a rich history of performance, modern well-maintained facilities and safe and efficient equipment to serve your customers.
A growing client-base sends a good message. You can't go wrong by selecting a 3PL company who serves many clients in a variety of industries. Satisfied clients will offer their testimonials in support of the quality service and support provided by their 3PL partners.
Choosing the right 3PL partner can transform your organization, reduce your overhead and increase your capacity to focus on core operations.
PBD Worldwide is proud to be recognized as one of the Top 3PL Providers for 2016 by Multichannel Merchant. We'd love the opportunity to talk with you and your team about how our fulfillment expertise can add value to your organization. Click below to contact us for more information.